All I Want From Jew Is Love
When the Very Hot Jews decided to investigate the key ingredients in Irresistible Jewish Hotness, certain ridiculously fine Hebes leapt immediately to our fevered minds.
Alluring Jewess
Shana Levy
is one of those. Her statuesque good looks and inherent cool allow her to taunt you with her very being in any crowd, regardless of how glutted with L.A. modeliciousness that crowd may be. Oh — and she's smart, funny and talented. And single, last we heard, though we assume there's a long line of Nice Jewish (or Jew-curious) Boys just waiting for a shot at the Shan-ster.
Shana, in other words, is a
shayneh maidel
. We vowed we would stop at nothing to bring her hotness to you.
Shana Levy grew up in sunny, Jewy Miami. She's not just Jewish (complete with charming, nutrition-centric Jewish mum) but also a first-generation American Jew. Her dad emigrated from Egypt. Hot.
She moved to the City of Angels for college, snapped up a degree in theater alongside the Sera half of the VHJ, performed in hilarious local theater productions (including one in which she and Sera starred as devoted lesbian lovers), and spent her scant off time putting her 13 years of classical piano training to good use on the Silverlake indie band scene. Her pile of witty lyrics and upbeat-yet-somehow-haunting melodies grew, and she had no choice but to use her power for good by founding
Let's Go Sailing
.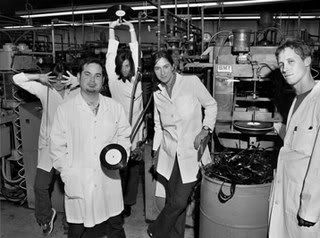 The sound of flesh straining against clothing that you are even now hearing is not what you think. Yes, we kind of get a boner for Ms. Levy, but what we're doing is bursting with pride. Because tonight, when you are watching
Grey's Anatomy
along with the other five billion people who need to know if Izzie and George actually banged or just slept together naked like girlfriends do sometimes,
you will be hearing not one but two Let's Go Sailing songs.
Our personal fave, "All I Want From You Is Love," will be featured mid-melodrama; "Sideways" got the pimp spot — it's gonna play over that circle-jerk of tears known as the closing montage
Grey's
inflicts each week. (Go to their
myspace
to hear all these and more, plus ogle pics of Shana caressing her guitar.)
You know what this means. Oprah will be listening to Let's Go Sailing tonight.
What better time to share with you our searingly in-depth interview with Shana? Scrub up, people. We're going in the lab.
Profiles In Hotness: Shana Levy
Were you always a hot Jew, or did you go through an awkward phase/convert?
I was definitely not always a hot Jew. I was a chubby kid and a huge nerd.
When others praise your hotness, what particular attribute do they most often talk about?
They talk to me about my height and my overall ethnic hotness. I'm a huge Jew!
What do you believe is the key to your hotness?
That I started accepting my flaws.
Did you have a bar/bat mitzvah? If so, what did you wear? What was the most embarrassing this about it?
No, but I had a Gumby-themed 13th birthday party. My parents are pretty old school and bat mitzvahs aren't traditional, so I had the party instead.
I can't remember what I wore, but I ended up wearing the Gumby-themed "I had a blast at Shana's 13th Birthday Party" t-shirt on top of it by the end of the night.
If you didn't have a bar/bat mitzvah, how did you get whatever knowledge you have about Jewish tradition?
My parents and grandfather told me stuff and I went to school with A LOT of Jews in Miami Beach.
What kind of Jew are you, besides hot? Are you observant, just unusually witty and smart, or other? Please explain.
I'm not very observant but I try to fast on Yom Kippur. I think it's important to think about the stuff you did all year that was stupid. Other than that I have some very classic Jewish traits. I'm neurotic and I think I have some form of OCD.
Who is your favorite Hot Jew, besides us?

Tanya Haden
.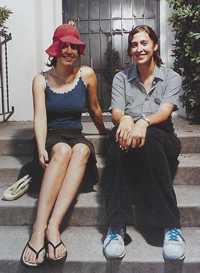 Double hotness: Shana with Tanya Haden
Have you ever experienced antisemitism? If so, what was your very hot response?
I luckily have experienced very little antisemitism. I think my response to a comment about being a cheap Jew was "Excuse me?" Yeah, I showed 'em who was boss.
Was your family observant?
Yes, my mom lit the candles every Friday and we celebrated the high holidays.
How would you describe your religious or spiritual feelings, if any?
As an adult I realized life is easier when you believe in God.
Do you think your (hot) Jewishness played a role in your career path?
Yes, I think part of Jewish culture is a stress on education and hard work and both of those have helped me.
How frequently do you pepper your speech and/or writing with Yiddishisms?

I say a Yiddish word probably every day. My grandpa and mom spoke Yiddish to each other so it's part of my vocabulary.
Do you have children? If so, what specifically Jewish neuroses are you helping them cultivate?

No, I have cats, but one of them is already showing signs of OCD. I'm very proud.
What is your most secret Hot Jew Fantasy?

Me and Sasha Baron Cohen eating gefilte fish and holding hands ...
No, wait — my Gumby-themed 13th birthday party. Dang, I wish I could go back for just five minutes.