Harry Potter and the Very Hot Jews
"Cheeky Blog's Jewish Obsession Strikes a Funny Bone of Contention."
When we read the title of that article, we thought for sure they meant us! Cheeky? Check! Blog? Check! Jewish Obsession? Pass the Paxil!

Turns out the blog in question is Gawker, which made some not very funny Jew jokes while hashing out a recent controversy. Then, when called on it, the blog made more Jew jokes, in that defensively "ironic" way that clues you in on the author's vague understanding of what irony might be. So,
Jewish Daily Forward
: The next time you're looking for a cheeky blog with a Jewish obsession you'll do a little better, no?
Oh, the aforementioned controversy? It's about Israeli booksellers breaking the sabbath in order to put the
final installment of Harry Potter
into the country's hot little Hebraic hands the very nanosecond it was released. Apparently, certain among the Orthodox made a big-ass mountain out of what seems to us a tiny little shmidge of breakin' da law of God. I mean, it isn't like the youth of Israel were indulging in murder or mishandling holy scrolls or surgically reconstructing their foreskins. But we, like, don't really get the Orthodox thing anyway, so who are we to say?
Well, duh, we're us, so we're gonna say
lots
.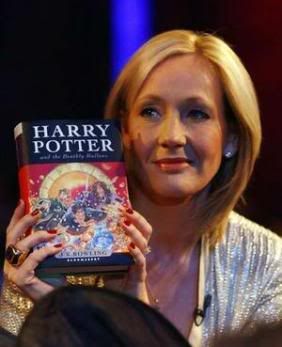 First of all, the fact that Harry Potter is responsible for more tsunamis than that fucking butterfly in China with its insistence on flapping its wings cannot be denied. Oh, the endless issues people take with poor rich happy blonde J.K. Rowling — for not being literary enough, for not making kids read other books besides her own, for spreading the word of Satan, for spitting on the Sabbath. We at VHJ disapprove of her excessive use of the adverb, but otherwise have found her work charming and benign.
Until recently. Recently, those fanciful books have become an interesting study in
perceived-anti-Semitism sensitivity
. As in: If enough people tell you that something is anti-Semitic, can you avoid seeing the hate yourself?
The verdict:
not entirely
. It bears mentioning that we have no idea how J.K. really feels about Jews. We've never met her. We concede that this could be a case of widespread misunderstanding. All we really know for sure is that she thinks
goblins are very culturally different from magicians
.
And yet, reading Harry Potter has come to feel eerily reminiscent of college Women's Studies classes. By the end of a good lecture, every billboard in town seems to be screaming sexism, sexism, sexism. Every magazine is exploitative. Every miniskirt is a lightning rod. So too with
The Noses Of Harry Potter.
I (Sera) have a dear friend, a hip and secular tribesmember, who insists that Harry Potter is deeply anti-Semitic. He believes the goblins described therein are based on
caricaturized Jewish moneylenders
, and equates Rowling with Mel Gibson in her obvious hatred of our peeps. Here is a quote from the email he sent me in response to the above-mentioned article:
HOWever, lost in this gerbil-in-a-wheel argument is the true problem with the harry potter books. it's not when they go on sale, young sera, but what's inside...


Believe me when i tell you, the harry potter books are so stereotypically and virulently jew hating as to be dickensian in scope.


the bankers, sera. they're small, grunting, hunchbacked little men with big noses and crooked teeth who care about nothing but money. sound familiar?
I initially scoffed at his assertion. "In your head!" I cried. "Paranoid! Lay off the wacky tobacky!" I exclaimed.
Until I cracked open the last tome and got to this description of possible-bad-guy Severus Snape wherein Rowling calls Mr. Evil (Or At Least Gross) Dude
"hooknosed."
Something in me bristled. "Oh REALLY?" I thought. "Is that the shorthand for untrustworthy? Gosh, it's been a while since I've read that word. Probably because people avoid it because it seems, how you say, not very cool in light of the long history of anti-Jewish propaganda featuring
evil noses that hook
?"
Having been sensitized to the possibility of anti-Semitism, I zeroed in on that, my stomach turned ... and I didn't really enjoy the rest of the book as much as a wanted to. Those banker goblins pissed me the fuck off. I tried to let it go. I mean, I really
like
the Harry Potter books, and I've been looking forward to the finale for eons. I tried to decide it was nothing. But, in the end, my sudden fear that all you non-Jewish folk hate the shit out of the Jews won. Bad for reading pleasure — but, hey! Good for blogging!
My imagination, all this? I dunno. All I do know is, I'm leading a by and large sheltered, Jew-friendly existence here in LA-LA land. I interact with lots of secular Hebes, my social circle is a multi-culti gaystravaganza, and nary a spraypainted swastika confronts me on my daily dogwalks. I'm able to pretty well convince myself that anti-Semitism is way '06, that it's just not of the now, that it's o-vah, babycakes. And then someone points out a perceived, subtle prejudice, and when I behold it ... well, at the very least I understand a little better what it must be like to walk around being all foreign or not white or lesbionic. Casual jabs coming at you from all sorts of unexpected places, like bland TV or children's books.

(Okay, so this Amber chick — from Cameras-In-A-Locked-Whorehouse reality show "Big Brother 8"— is a raging fucktard, but still, it's the obvious bland-TV example of anti-Semitism. I found this girl's words shocking. And it hurt my feelings, Amber. I think you should apologize. Or henceforth wear a t shirt that clearly warns viewing audiences that you're an uneducated bigot with bad hair. Oh, wait, everyone already sees that last part.)

Here's what AIN'T my imagination. The people that commented on the article linked at the start of this here entry? Some of those bitches need schooling. Look at this:

Bill said:

Perhaps if Jews were not the 'average New York media professional', and some other ethnicities were allowed to amass in any real numbers in media professions; they would be ridiculed as well. But we'll never know, will we? I guess Jews will have to be satisfied with world domination, and work on mind control in their free time (if they wish).

Thu. Jul 26, 2007



I'm not here to get all indignant. I hear it speeds up wrinkles, and I'm too vain for that shit. But, um, allowed to amass? Excuse me? Now, I know I happen to be a Jew working in a media profession. But I nevertheless must call not only foul but also asshole on young Bill, if that is in fact his real name.
Bill, my darling? If there were some kind of Jewish media mafia holding deserving goyische pros — like, I assume, yourself — down? In order to hoist less-deserving Jewlicious pros like Simon and myself up, up, up? Then God knows the VHJ would have gotten some kind of phone call by now, inviting us to come, like, control the media. And I promise you, had we gotten such a call, we'd have blogged about it by now. We're nothing if not blabbermouths. Forget invited - I'd gatecrash, if only I'd heard of such a thing, which I haven't for some reason that I assure you is unrelated to my hardy Hebrew heritage. Perhaps I should call some of my most intelligent friends to ask them to explain it to me. Oh, wait — they're struggling Jewish media professionals. It's been hard for them to break in. That's odd. You'd think they'd get in quick on that Chosen Folk Fast-track. Oh well.

At least we've got our world domination to fall back on.