The Year of the Hot Jew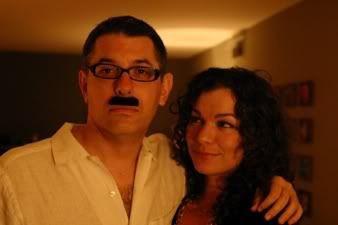 Perhaps we flatter ourselves, but we like to believe that this blog's end-of-2007 message is something special – unlike, say, the typical year-end roundups of what Britney said and what Barack wore and who Paris vomited on – if only because this was the year in which our humble blog was born.
As devotees of VeryHotJews.com are well aware, we hadn't intended to be online pontificators. Sera and Simon had every intention of funneling their wet, wet opinions into a shimmering infinity pool of a book. It was only the parched and parsimonious (and, I might add, pusillanimous) paucity of publisher
pelf
that evaporated their dream and its accompanying aquatic metaphor.
But enough about Sera and Simon. In the third person, that is. We'll now switch back to the royal "we," because thanks to wonderful, steadfast and hot readers like you we
feel
royal.
In this, our first year, we
stuck it to Hitler
; praised
bacon
; bemoaned the vicissitudes and extolled the virtues of
the writer's life
; pondered
religion
and
loss
; prodded our emotional gums, as it were (thanks for the genius expression, Julia), in contemplation of
sexual vanity
and romantic
mysteries
; mused about
dreams
and
pitch meetings
and
French bulldogs
and
Harry Potter
and our gratitude for
the compassion of Gentile friends
. We wrote about
the writers' strike
and the unbelievably powerful support expressed by our readers for the strikers' cause. We
kvetched
about dentistry and
sewer pumps
,
kvelled
about love and
New York
and
singalongs
and
gourmet food
, and most of all carried out Phase One of our mission: Carve out a space in the blogosphere for Hot Jews and those who love them.
We also got a lot of warm fuzzies from our cyber-pals. Sera was interviewed by the one and only
Susie Bright
, among other
admirers
, while the VHJs were featured on Susan Henderson's wonderful
LitPark
site and contributed to Jewcy's "
Most Awesome Events of Jewish 2007
."
We hope that our readers of the Tribe have been able, in some measure, to claim it, to work it, to own it. Because you don't have to be the protagonist of
The Bluest Eye
to feel that the popular definition of hotness is invariably something we are not.
(Which is not to say we think all Jews are hot. Quite the contrary. But we hope we have gone some distance in helping to define Jewish hotness, in part by identifying the
smokin' Semites
in our circle.)
So thank you for being you and for being hot – and for making our first year a bloggy miracle.
But we can't jump into the champagne fountain that is our New Year's birthright without reiterating our code one last time:
Own it.
Live it.
Be it.
We love you! May 2008 bring blessings in abundance.
The VHJ
Thanks again to Josh Pickering for the photos.