How to Spend $75
(Wherein We Noodge You for Your Own Good)
It's pretty easy to find that the world has hoovered seventy-five clams out of your wallet, purse, mattress or whalebone-studded money clip.
You and your posse can spend it on about two rounds of drinks (before tip) at any Hollywood bar while straining to be heard above the latest Arcade Fire album and the cacophonous jingling of a million cell phones.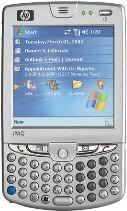 You can fork it over for a very average meal for two with no wine in an underlit
boîte
that overdresses the salads.
You can lay it down for some not-yet-assembled, piece-of-crap end table with a Swedish name, or a pair of socks from Barney's, or a lame gift basket full of indigestible baked "treats," or two months of fruitless online dating, or a Bedazzled frock for your shih tzu.
It's not really very much money, considering the underwhelming return on investment you can normally expect out of life.
Which is why we're writing to urge you to consider the value of a ticket to
IN HAGGADAH DA VIDA
, the stellar
second-night Passover seder/feast/happening
on
Tues., April 3
, which the Very Hot Jews are co-sponsoring (along with
Reboot
and Storahtelling) at
hot L.A. club The Echo
.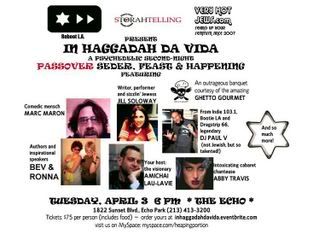 Go here for a larger image
Buy a ticket (although it's crazy to buy just one — bring your crew and share the love) and for once you'll truly get your $75 worth
:
A hip, soulful, funny, interactive, modern, deeply meaningful seder ceremony
conducted by young Israeli visionary/old soul
Amichai Lau-Lavie
. The founder of evening sponsor
Storahtelling
, he's one of a kind, with a fresh, deep take on the past but firmly rooted in the present, and blessed with a wicked sense of humor. This will be unlike any seder you've ever experienced, punctuated by ultra-modern stories, songs and observations. You'll leave inspired and energized, with new friends and an expanded sense of community.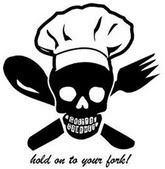 An unforgettable feast —
WITH WINE
— provided by the culinary guerrillas of Ghetto Gourmet. When it comes to versatility and panache in the kitchen,
the Ghet
is as good as it gets, and
when your taste buds first savor their version of the Passover meal, you'll experience a religio-orgasmic epiphany
. And they'll serve it up to you with such grace that
you'll feel like a mighty king
. And don't forget the
vino
, selected for the occasion by local grape fiend and brainiac Brit Julian Davies (of The Echo's beloved Irregular Wine Tastings).
Fantastic live music by the splendorous
Abby Travis
, the magical Marvin Etzioni and others, incorporating the classic/psychedelic rock theme of the night and
using some amazing tunes to further underscore the themes of Pesach
in a way you never imagined possible.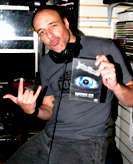 The seismic turntable stylings of
DJ Paul V
, whom you may know from
Indie 103.1, Bootie L.A. and Dragstrip 66
, among other beat-mongering benchmarks. A master of the mash-up and guru of the groove, Paul has been a powerful force on the L.A. club scene for some years — and one of the first to get the kids shaking a tail feather to rock music again. He regularly rocks the Echo, but this is his first time doing it to commemorate a Jewish holiday, as far as we know. He's not an M.O.T., but he's definitely
mishpuchah
.



Comedy and spoken word from brilliant
mensch
Marc Maron
, writer and hot Jewess
Jill Soloway
(Hello? She wrote for "Six Feet Under," people), the incomparable
Ronna & Bev
(whose
new video is burning up YouTube
), your favorite
Very Hot Jews
Simon and Sera, and more. These folks will not only add their wit and wisdom to the ceremonial richness of the holiday but will also be noshing and drinking and kvelling and schmoozing with you. It's unlikely that you've ever shared a table with so many hot, clever and accomplished Jews before.
Will you meet that someone special? Very possible. Will you make tons of friends and have the time of your life? You bet your ass.
What's more, you can find
the event itself
and virtually all of the participants on MySpace — make friends with them now and leave a comment on their pages about how happy you are that you'll be attending.
So order your tickets today — or at the very latest by Mar. 28
, so the Ghetto Gourmet folks know how much food to make for you nice people.
Don't make us come over there.