La Luta Continua
a sugary selection from Simon
First things first: For you L.A. peeps, VHJ and genius comic Jill Kushner will perform Tues. night at a strike support show with several other funny persons. If you've got five bucks — and I know you just spent at least that much on a venti half-caf no-foam soy macchiato — head on down to show strike support at the strike support show.
Details can be found on this flyer, which is so classic-labor in its spartan layout that it gives me a rush of righteously indignant nostalgia:
OK, it's Small Jewy World time. We got a super-sweet note from Elaine, one of the two Portland, Ore., Jewesses behind the extremely funny and acerbic
GirlGoneChild
blog, which suggests what
Sex and the City
would be like if it were about real chicks in a real city, rather than newspaper columnists who are somehow able to afford sprawling Manhattan digs and stuff their regal walk-in closets with Jimmy Choos (I'm keeping up the "writers don't get paid nearly as much as some people think" theme as best I can, in case you hadn't noticed).

Anyhooze, Elaine writes in and says, we're two of the 12 Jews in Portland, and I'm all, uh, there are a lot more than you think — in fact, Jules and I just had a lovely visit from our Portland-based pal Joanna Miller, a ravishing Semitic goddess (and inspired
candy blogger
). And Elaine's like, nope, I've known J-Dog since we were micro-'brews at Camp B'nai Brith together. She's one of the 12.
So I stand corrected. All I know is, I have even more reasons to revisit the town where I spent my undergraduate years becoming lysergically attuned to Pink Floyd and learning my one true skill: dancing to the B-52's without spilling my beer.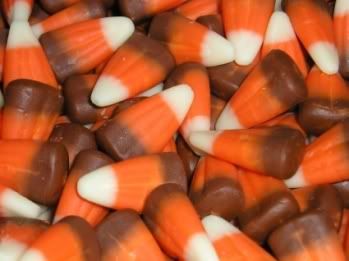 Oh, that Joanna Miller. In addition to being the only person I've met who can converse as volubly as Julia and her littlest sister (also Joanna) about the relative merits of "real" vs. "fake" buttercream frosting (the true adept will prefer the latter) or the best way to eat candy corn (hint: keep those incisors sharp), she also engaged us in an endlessly enjoyable sitcom-trivia game. Where did
Full House
take place? Huh, you don't say.
And who dreamed up those countless sitcom scenarios? That's right, the writers. And what do they want? A little cheddar from the new-media taco stand, bub. The struggle continues.