Irony, While the Strike Is Hot
a few pages of hope from Simon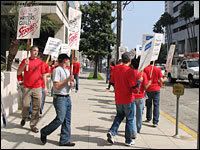 So you've probably heard by now that the writers are on strike. You'll be hearing a lot more about that from Sera because, well, she's on strike too — but thanks to some exhaustive negotiations, I managed to persuade her to stay on at Very Hot Jews (she's getting a bigger cut of our merch, especially the keychain and underwear concessions, as well as a massive royalty bump when we finally hit syndication). Whew!
In any case, I've been meaning to send out a quick entreaty to the other writers out there. Just because you can't work on your shows doesn't mean you have to put your creative genius on hiatus.
Why, you can finally start researching that massive tome you've always wanted to write on the history of
scrimshaw
.
Or perhaps pen a cheeky
roman à clef
about the kooky world of TV production! We know that in your mind you're already casting Ryan Gosling or January Jones to play you ... come off it.
Jeez, you could just blog while catching up on your backlog of TiVo'd procedurals. It's what I do most of the time, and I'm technically still at work.
Oh, there is something else you can do that's a smidge more relevant to your profession.
Aspiring TV writers who hope to be successful enough to go on strike one day: You should be especially attentive.
Put down that copy of
Us Weekly
, swig that Macchiato, and peep this.
Dec. 15 is the deadline for the
Other Network Comedy Writing Contest
. Which means that if you have an original comedy property to write and/or shoot, now's the time.
What's the Other Network Comedy Writing Contest, you ask? Well, if you hadn't been paying so much attention to Suri Cruise's diamond-studded pacifier and daydreaming about being wealthy enough to turn your own baby into a sociopath, you'd already know. But that's cool, I'll hip you to the deets, as they say during story meetings at the Coffee Bean & Tea Leaf.
Some of the smartest, most enlightened comedy people in town are looking at original comedy submissions. The contest was started by Greg Miller and Beth Lapides of the amazing
Un-Cabaret
(where comics and comedy writers showcase their most personal work — it's a million miles from those topical-gags-in-front-of-a-brick-wall clubs); the judges have worked on shows like, oh,
The Simpsons
,
Sex and the City
,
SNL
,
The Office
and many others. They know their shit, and they wanna see yours.
Past winners of the contest (now in its fourth year) saw their work read by top execs at Comedy Central, got (useful) notes from showrunners who expressed interest in being attached to the projects, got hooked up with top agents and managers and, for all we know, had sex with Charlize Theron in a bathtub full of champagne*.
Yes, there's a nominal fee to enter. I don't want to hear any whining about that. Do you think these folks should pay to administer the contest themselves? Are they beholden to
Us
-wielding acolytes for some reason? No, I say. Pay up and be glad about it.
You can see all the rules on the contest page. Go
here
for details.
At the very least, it'll help you focus some ideas. Be honest: Do you really have the patience for that scrimshaw book?
*sex with Charlize Theron not guaranteed to all winners. Nor is anything else.