What a Night!
Thank you, thank you, thank you. That's all the VHJs have been saying all day, as we express our profound gratitude to everyone who participated in our rock and roll alterna-seder.
No one seemed to know quite what to expect, but the incredible mixture of profundity and irreverence, pop songs and ancient invocations seemed to leave everyone feeling elevated. At least that's how your humble Hebrews felt, especially after tons of wine, food, comedy, music and good vibes. Plus, the attendees raised a tidy sum for our Afikomen recipient,
Progressive Jewish Alliance
.
It was an astounding mix of the traditional and the entirely unexpected; even the Easter Bunny showed up. We shit you not.
So the least we can do to express our thanks to the wonderful folks who performed at our event is to tell you what else they're up to.
Mesmerizing chanteuse
Abby Travis
— who sang killer versions of "Go Down, Moses," "Should I Stay or Should I Go" and a medley from "Tommy" — will be appearing at
Bordello
in downtown L.A. on 4/27. The cover is a mere five clams.
Inspired comic
Marc Maron
, whose soliloquy on the bittersweet "sandwich" of life was fierce and hilarious, will be doing a series of evenings with Janeane Garofalo and Henry Rollins entitled "It's Not a Play and There's No Music" at New York's
Gramercy Theater
April 10-15 and at L.A.'s
Silent Movie Theater
April 24-29.
Rebekah Del Rio
, who sang a haunting Ladino (that's Spanish-Jewish, in case you were wondering) number, "Los Bilbilicos," will be appearing with her all-female ensemble, W.O.R.L.D., at
Molly Malone's
in L.A. on April 21 at 10 p.m.


Ronna & Bev
, who brought the Wet-Naps for the ritual handwashings and whose give-and-take with the various presenters was the kind of
Pesach
horseradish that brings tears of laughter, are all over YouTube with their unforgettable
video
. Look for a new installment soon. It's only a matter of time before these ladies of the tribe are jumping up and down on Oprah's couch, so get in on the ground floor. As they would say, wonderful.
You could've heard a pin drop when Marvin Etzioni sang his ravishing song "You Are the Light," accompanied only by his mandolin, without microphone or other amplification. Go and make friends with him
here
.
Andy Corren, who gave a riveting,
unrehearsed
reading of Julie Hermelin's superb short story "Blood on the Doorposts" (with impromptu band backing), can be found over at
Generate LA
.
The smokin' hot Jill Soloway read a very funny piece about anticipation, filled with delicious reminiscences and sweet dreams of The Grove. Go and bow down before her
here
.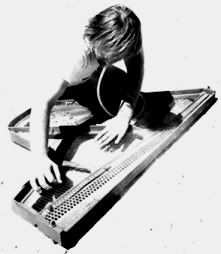 Our wonderful house band, The Afiko-Men, featured drummer Jim Mills, who played every damn instrument on his gorgeously trippy album "F R Double E," recorded under the
nom de rock
Extra
; guitarist
Josh Pickering
, soon to be heard rocking covers in a club near you (stay tuned for details), and who is also a gifted photographer; and virtuoso bassist
Jason Chesney
, who is currently available for session work (but hurry, because he's going to have a very full dance card). These dudes rocked it all night long — and responded to the most spontaneous moments with menschy, melodic flair.
And your Hot Jews? We read some pretty heartfelt stories and observations about Sera's Polish-immigrant family and Simon's left-wing family seders and atheism and faith and crossing the deserts of history and intolerance, some of which you'll probably see in some form on this here Jewblog. And with all due modesty, we saw some moist eyes out there in the crowd.
(Afterwards, Julia, Wife Of Simon, threw her arms around Sera and said, "I wept! And by the way, you were clearly nervous and next time you need to take a Xanax." Ah, yes. Jews and their Xanax. Perhaps we should do a five-part series.)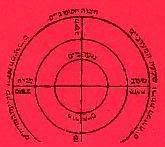 We'll have more updates for you shortly. In the meantime: a million Mazel Tovs to
Amichai
, who officiated with warmth, humor and the patience of Job; to Jane Steinberg of
Reboot
; to Jill, Julie, culinary temptress Alexis and everyone who helped make this happen; and to everyone who bought a ticket and got into the wild spirit of the occasion. We all created something new together.
What a blast! We can't wait for the next big Jewy shindig.