I Just Blogged To Say I Love You.
Dear Hotness That Is
Vous
,
Hey. It's Sera. I know, I know. It's been way, way too long, hasn't it?
I went halvsies on this here blog o' hotfulness with Simon Of The East, and here I sit in Santa Monica, having blogged not a whit in so long you've probably taken us off your bookmark list in betrayal and despair.
It's like this, folks. There was a strike; and then I went back to work and it was, let us say, very slightly busy; and then I was done and I got to go on hiatus, but it was this tiny hiatus compared to the hiati to which we who write for your couch-bound entertainment are generally accustomed. Just under a month, which is nothing to sneeze at, I know - I have friends with their own businesses who haven't taken time off in three years, and I have friends with kids who haven't had a day to themselves since the friggin'
nineties
. But still, it was only just long enough for me to take care of business.
What business? I'd love to share, because what's a blog for if not to digitally toot one's own metaphorical horn, but I can't. I'm uber-Jewlicious in my level of superstition, and all the shit I've been rocking is mid-rock. There was a point last week - Tuesday going into Wednesday, to be precise - where I got so in the zone I worked all night and straight through the next day. Don't feel bad for me, it was bliss, to just dive in the creative deep end because I want to rather than because I'll get fired/production will shut down/my professor will give me an F.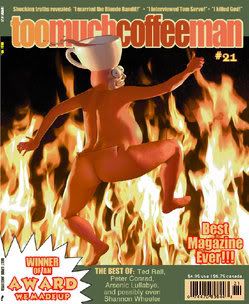 Sometime in the next few months, I'll either post about what/whom I was working on because things bloomed in fantastical fashion, or I'll have fallen on my face and have a hilarious cautionary tale with which to entertain you.
The one little thang I can tell you 'bout is that I got invited to contribute to a lush and deviant collection of gothic erotica curated by
Susie Bright
. It'll be out in time for Hannukah, I do believe. Because I apparently don't get enough of it at work, I wrote about a demon. I think I was a disgruntled nun in a past life.
So, yeah, I'm a slacker and I suck and maybe I remind you of your deadbeat dad who always said he'd call but almost never did. But, like your dad, beneath my charming, possibly drunk exterior, I really do love you and have the best of intentions.
xoxo,
Sera